Lunch & Dinner at Zingarella! The Crossroads of Lively & Delicious!
In just five years, our little Zingarella – "The New Gypsy Girl in Town" – has become central Connecticut's favorite destination for Italian comfort food and New York-style pizza.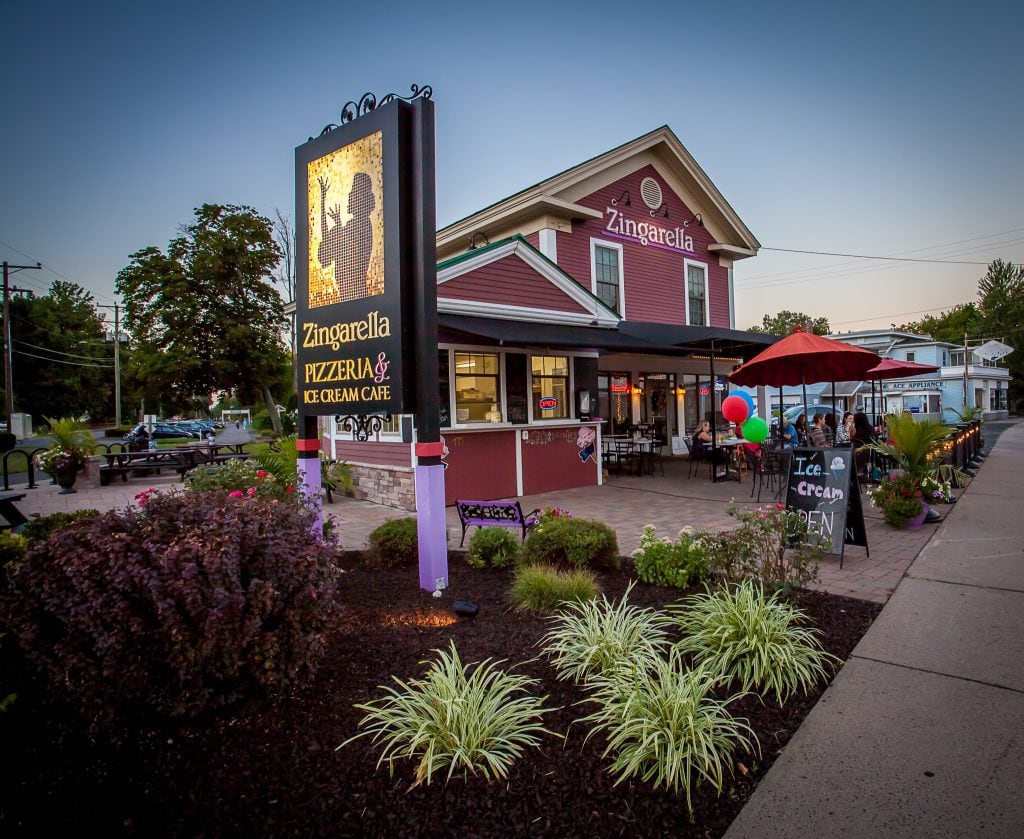 We're open all day Tuesday through Sunday starting at 11:30 a.m. Our Lunch Menu offers sandwiches and more than 30 delightful soups, appetizers, crisp salads and entrées. Our Pizza Menu, served all day, offers more than 30 toppings on any cheese pizza – plus more than 30 specialty pizza recipes. And our Dinner Menu, beginning at 4 p.m., features the creations of our talented team of chefs led by the gifted Angelo DiDomenico. Inspired by Italian tradition, we feature dinner all day on Sunday!
It's a charmed corner we occupy! Easy to find us in Southington – in the Victorian-era Village of Plantsville – just 30 seconds off I-84, Exit 30. With the Farmington Canal Heritage Trail just outside our door, Zingarella beckons you to jump "on the tracks!" Before or after a delicious meal, take time for a stroll, a brisk walk, or a fun bike ride!
(Trail Parking for both cars and bikes is located outside Zingarella. When completed the trail will stretch 80 miles from the Yale Campus in New Haven to Northampton, Massachusetts. More info at TrailLink.com… or click here to view a map.)
Our Gifted Italian Chef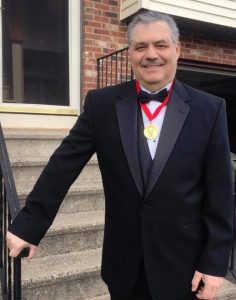 Angelo DiDomenico's kitchen is exceptional for his focus on simplicity – fresh ingredients prepared simply, with perfect technique! A first-generation immigrant from the Formio region of Italy, Angelo spent his childhood outside Rome. He came to Connecticut in 1966 and has built a following of fans – like CBS Radio's Ray Dunaway – who have followed his career. He has led the kitchens of notable Connecticut establishments such as The Pavilion in Cheshire, Corner House in Farmington and Ristorante Italia in Avon.
His bullish hard work and talent were recently recognized by Les Amis d'Escoffier Society of Connecticut.
Angelo offers a lighter and brighter interpretation on traditional Italian comfort food, making Zingarella's menu perfection for modern culinary tastes. When you next join us, consider ordering one of his memorable signature dishes: Handmade Paglia e Fieno Fettuccine tossed with crispy pancetta and prosciutto; Pillow-soft, Potato Gnocchi or Award-winning, tender Veal Meatballs served with a dollop of creamy ricotta.

Meet at Zingarella: Book Your Banquets for Business, Celebrations & Feasting!
In summer 2012, Zingarella opened a beautiful, second floor banquet room, suitable for 16 to 40 guests. The room boasts a 20-foot ceiling with giant sculptural chandeliers and 8-foot tall windows overlooking the village. It's equipped with the latest stereo sound, computer links, and a 9-foot wide, high-def TV! Our convenient location makes every event at Zingarella turn-key easy! We host many wedding rehearsals, retirement parties, showers, stags, sporting events, holiday gatherings, and children's parties with make-your-own mini pizzas or ice cream sundaes!
Business groups love our location because it's accessible, private and quiet – for getting business done during the day. After hours, we transform to welcome fun, lively gatherings for happy hour.
In our main dining room, we also sport a 9-foot retractable projection TV. We welcome inquiries about private events in our banquet room or our main indoor and outdoor dining areas.
Click Here For More Info On Our Banquet Room
Sweets at Zingarella: Ice Cream Café Completes Splendid Dessert Menu
It's common to have a mid-afternoon craving for Zingarella's house-baked desserts – led by Angelo's famous light, but not-too-sweet Cheesecake (you'd swear there was ricotta in it!) Light and creamy treats like Tiramisu, Crème Brûlée, Chocolate Zuccotto Sponge Cake, and fresh-filled Cannoli are frequent features of the dessert menu, which changes daily. Zingarella is a perfect spot to grab a friend to enjoy a fresh-brewed espresso or cappuccino over dessert!
In summer 2015, Zingarella opened a full-service, walk-up ice cream café. The full ice cream menu is available inside or out to enjoy milkshakes, hot fudge sundaes, ice cream cones and other treats with a meal – or snacking in-between!
History of Our Gypsy Jewel
The storied, 150-year-old building at 83 West Main Street is a big part of Zingarella's attraction. We lovingly transformed this building to capture a casually elegant, bohemian atmosphere with an old world spirit that invites people to relax and enjoy good times.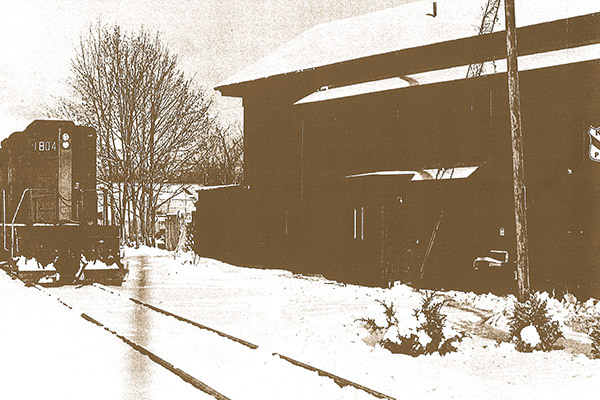 A million-dollar renovation produced a lovely dining room that seats 70. It can accommodate parties of up to 16. The dining room opens to a full service bar with seats for 30 more and features wall-to-wall French doors plus five hi-def TV's. An expansive sidewalk patio welcomes 50 more diners. Reservations are recommended on weekends.
In its rich history, Zingarella was a meetinghouse for the area's colonial settlers, a reading room for the Plantsville Library Association, and a Seed & Grain store owned by the Cowles Family. Around this era, the second-floor flophouse was colorfully rumored to be a bordello. Sometime in the late 1800's a fire broke out in the building – charred burn marks are still visible in the attic beams. A railroad company later took ownership and housed workers on the property. A laundry was the last occupant prior to Kry's Pizza, in the 1970's.